Los Angeles Unified School District
Planning, Assessment & Research Division
School Information Branch & Student Information Systems (SIS) Branch
---
Elementary SIS
Phone: (213) 241-4617
Fax: (213) 241-8498

School Information Branch
Phone: (213) 241-2450
Fax: (213) 241-8968
---
Security Procedures
Instructions
Please read the full contents of this document carefully. When you have finished, you may click on the "I Accept" button at the bottom of the page. This will confirm your agreement to the policies and procedures described here.
Objectives
The objectives of this document are to:
Provide information regarding LAUSD policy related to Security Procedures.
Explain the criteria for creating or changing a password.
Provide training on procedures for creating or changing user a password.
Rationale: Greater Availability
Many users have asked for greater access to the Online Progress Report (OPR) and Student Online Assessment Reports (SOAR). Previously, access was limited to the school intranet or dial-up connections. With these new security measures in place users can access web applications:
From any location with an Internet connection, including home or a library.
Using any Internet Service Provider (ISP), e.g. AOL, Earthlink, SBC, etc.
Via both Narrowband (i.e. dial-up) and Broadband (e.g. Cable, DSL, T1) connections.
Related Resources
Please review the following resources for additional information about district policies and procedures:
Bulletin BUL-K19: Acceptable Use Policy (AUP)
Memorandum M-225: Dates for Required Progress Reports in Elementary Schools
Bulletin BUL-339: Elementary Progress Report Marking Practices & Procedures
Bulletin BUL-709: Security Procedures for Accessing Online Progress Reports and SOAR from Home
Sensitive Information
Student information is legally protected and is only to be shared with other employees who normally have access to that information. Sensitive information should be treated with care once is it transferred to a local computer. It should not be shared by non-secure mechanisms, particularly email. If you have reason to believe that an intentional or unintentional release of confidential information has occurred, notify the Planning, Assessment and Research Division, Elementary Student Information Systems at (213) 241-4617.
Password Criteria
Please be informed of the following criteria when selecting or changing your password:
You may not use the same password as any of the last two (2) previously used.
Your password should not be based upon your username.
Your password must contain letters and at least one number and must be a minimum of eight (8) characters in length. (Example: my1truelove)
The same letter or number cannot appear three or more times consecutively. (Example: 23AAA8SR is not a valid password.)
Your password is CaSe-SeNsiTivE.
User Block
If you make five (5) consecutive failed attempts to log in, your access to OPR and/or SOAR will be blocked for 6 hours. Because of this, it is recommended that after four (4) unsuccessful attempts, you request that a new password be sent to your LAUSDnet email account. During business hours, you can also call Elementary SIS at (213) 241-4617 to re-establish access. DO NOT MAKE A FIFTH ATTEMPT.
Please note: if you have been "blocked" and you have requested a new password via email, you will not be able to log in until 6 hours after the "block" first occurred.
Sample Screens
1. Logging in to Web-based Applications: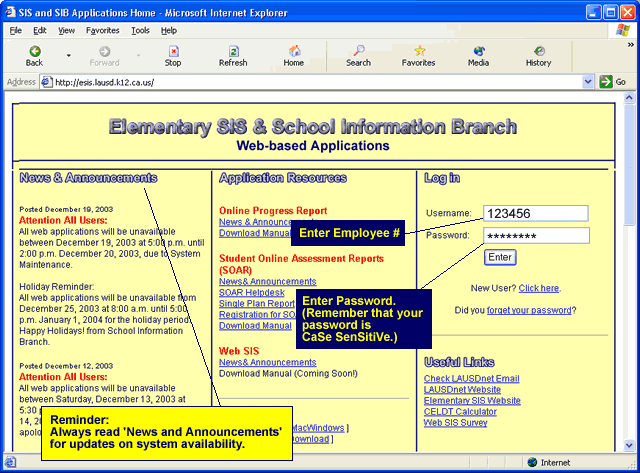 2. Accessing 'Update My Account':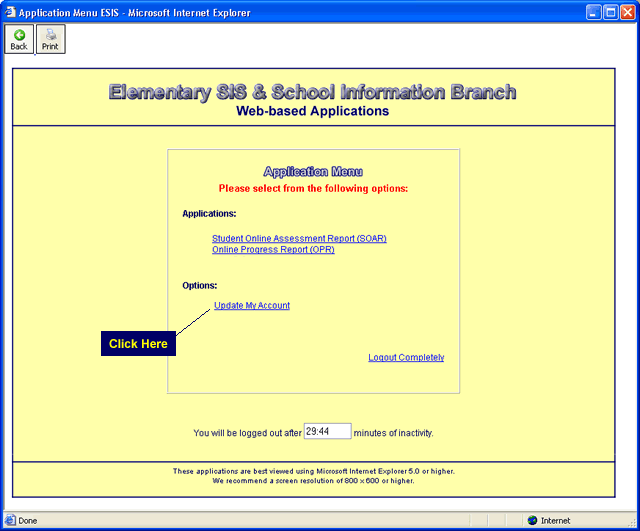 3. Changing your password, and updating your email address: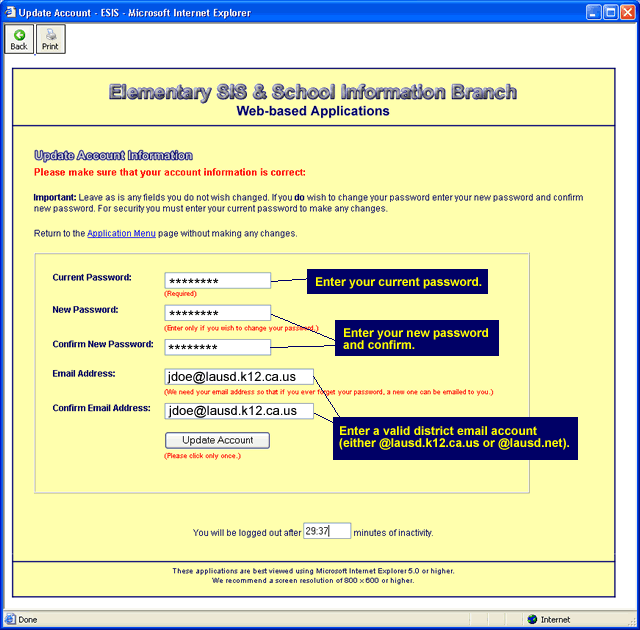 4. Generating an error message: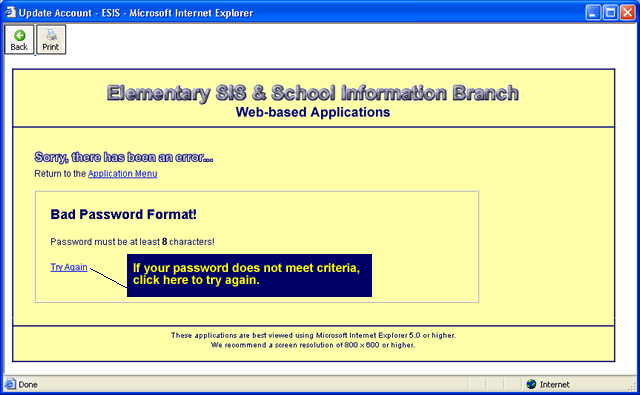 5. Successfully updating your account:
---
Thank you for reading this document carefully.